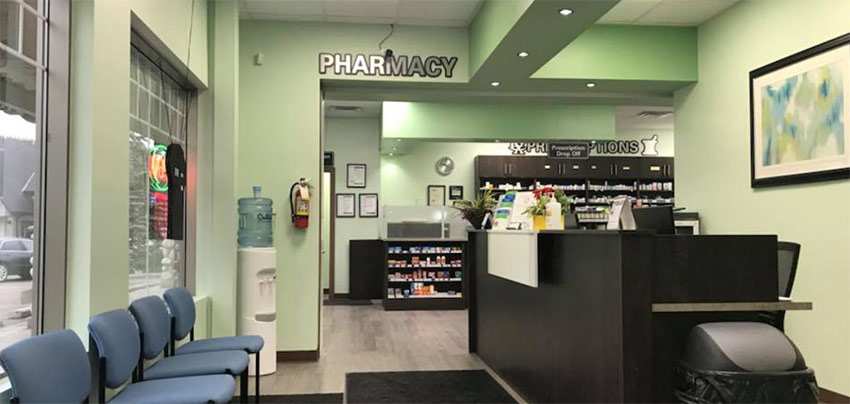 Visit Our Walk-In Clinic
While many of our patients visit our trusted healthcare providers on a regular basis for all of their health care needs, it's understandable that life gets busy, and sometimes unexpected health issues arise. On these occasions, a walk-in appointment can be the ideal solution.
At Signature Medical Centre, walk-in patients are treated with the same level of care and documentation as regular patients, or those who make appointments. Additionally, our staff's empathetic and professional demeanour means that our walk-in patients often return to us for ongoing care!
Where You Can Find Us
Our SW Calgary clinic is conveniently located in the Signature Park area. We're easily accessible to residents of Signal Hill, Signature Park, Coach Hill, Richmond Hill, Cougar Ridge, West Springs, Wentworth.
We offer free parking and are conveniently located next to Signature Drug Mart: just look for a large sign with the name of our practice.
For those familiar with the area, we are just a few hundred metres to the south of Sunterra Market, West Market Square.
How You Can Reach Us
By Phone
To schedule an appointment or if you have any questions, you can reach us at (403) 454-7550.
Hours of Operation
| Day | Time |
| --- | --- |
| Monday | 8:30 a.m. - 6:00 p.m. |
| Tuesday | 8:30 a.m. - 6:00 p.m. |
| Wednesday | 8:30 a.m. - 6:00 p.m. |
| Thursday | 8:30 a.m. - 6:00 p.m. |
| Friday | 8:30 a.m. - 6:00 p.m. |
| Saturday | 9:00 a.m. - 2:00 p.m. |
| Sunday | Closed |
*Walk-in appointments start at 9AM
Popular Routes
By Car
Our clinic location is easily accessible via Sarcee Trail (drivers coming from the south can easily access Sarcee via Glenmore Trail).
Those travelling northbound or southbound on Sarcee Trail can easily reach us by taking the appropriate exit onto 17th Avenue SW. From 17th Avenue, drivers can turn southeastward on to Sirocco drive.
By Transit
Whether you want to save on parking or use public transit as your main mode of transportation, we've got you covered. There are numerous ways to reach our walk-in clinic via bus or LRT.
For those travelling by train, our walk-in clinic is a short walk from the Sirocco CTrain station, which is located on the other side of 17th avenue.
Additionally, for those travelling along Sirocco Drive, stops for busses 94, 699, and 894 are all located near our clinic. There are bus stops for these routes in both directions a short three-minute walk away from our clinic.
Our Services
Our walk-in and family medical clinic offers a wide variety of services to meet all of your healthcare needs. Our services include (but are not limited to)
Ready To Book An Appointment?
To book an appointment with the team at our medical clinic, call us today at (403) 454-7550 or get in touch through our contact form!
For After-Hours, Non-Emergency Assistance, contact Health Link Calgary by dialing 8-1-1. If required, a Health Link Nurse will make an appointment for you at the Access 365 Clinic located at Riley Park Primary Care Centre.